The studio consists out of 3 spaces: a dedicated control room, a more live sounding recording room and an intimate booth.
Mood and creativity are key. The rooms aim to inspire, sound amazing and are filled with backline that is always ready to go.
Scroll down for some impressions and a list of the more nerdy stuff we have on offer.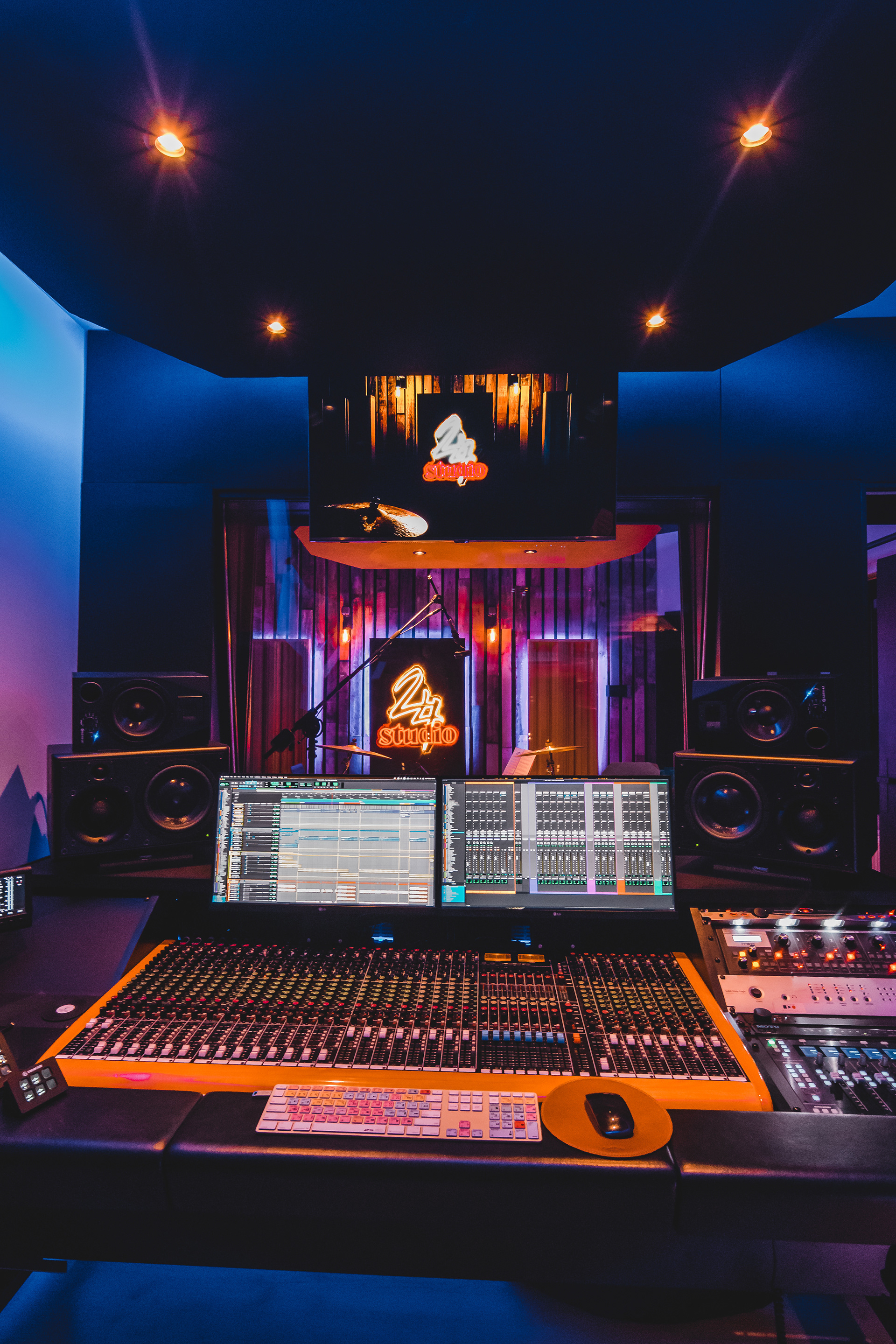 Microphones:
AKG D112
Sennheiser e602
Sennheiser e604 (4x)
Sennheiser e906
Sennheiser MD421 (5x)
Sennheiser MD441
Shure Beta 57A
Shure SM7b
Shure SM57 (4x)
Shure SM58 (2x)
AKG C414 B-XLS (2x)
AKG C418
Avantone CK-1 (2x)
Charter Oak e700
Flea M49
Josephson C42 (2x)
Lawson L47 FET
M-Audio Nova (2x)
Røde NT-55 (4x)
Sennheiser e614 (4x)
Vanguard V13 (2x)
Warm Audio WA-251 (2x)
Warm Audio WA-47
Warm Audio WA-47F
AEA R84
AEA R44CE
Beyerdynamic M160 (2x)
Coles 4038 (2x)
T-Bone Ribbon (2x)
Rupert Neve Designs RNDI-S
Monitoring:
Adams A7
ATC SCM25A
Behringer P16-M
Conversion:
Ferrofish Pulse 16
Lynx Aurora
SSL Alpha-Link
Backline:
Danelectro 56 Baritone
Ephiphone Les Paul
Eko 12-string
Fender Jaguar
Fender J-Bass
Fender Stratocaster
Fender Telecaster
Gretsch Electromatic
Gretsch G9240 Alligator Biscuit
Hofner Galaxie
Martin DX1
Martin OM18V
Recording King RPS-9
Richwood P-Bass
Boss TR-2
Catalinbread Echorec
Ceriatone Centura
Creamy Driver
Dunlop JH F1
Earthquaker Devices The Depths V2
EHX Big Muff
EHX Holy Grail Max
EHX Memory Boy
EHX Memory Man w/ Hazarai
EHX Octave Multiplexer
EHX POG2
EHX Pulsar
EHX Small Clone
Ernie Ball VP-JR
Eventide H9 Max
Fairfield Circuitry Shallow Water
Ibanez AD-80
Ibanez TS-9
J. Rockett Archer Ikon
Keeley Bubble Tron
Line 6 DL-4
Line 6 M5
Meris Mercury 7
Mooer Lofi Machine
MXR Dyna Comp
MXR Phase 90
Proco RAT
Strymon Big Sky
Strymon El Capistan
TC Electronic June-60
Outboard:
Shadow Hills Mono Gama (2x)
SPL GoldMike 9844
Tonelux MP5A (2x)
Warm Audio WA-273EQ (2x)
Universal Audio TwinFinity (2x)
DBX 510
Dolby A
SPL Vitalizer Mk2-T
Tonelux EQ5P (2x)
Warm Audio EQP-WA (2x)
Warm Audio WA-273EQ (2x)
Chandler RS124
Chandler TG-1
DBX 560A (2x)
Distressor EL8-X (2x)
FMR RNC500
Golden Age Comp-3A (2x)
Neve 33609
Retro Sta-Level
SPL Transient Designer 4
SSL 611 DYN (2x)
Tonelux TX5C (2x)
Tube-Tech CL-1B
Warm Audio Bus Comp
Warm Audio WA-2A
Warm Audio WA-76 (2x)
Klark-Teknik 3rd Dimension
Lexicon PCM91
TC Electronic M350
Vermona VSR3.2 Spring Reverb
Backline:
Behringer Odyssey
Behringer Poly-D
Behringer VC-340
Hammond Organ
Korg Microkorg
Korg Minilogue XD
Korg MS-20
Moog Slim Phatty
Nord Stage 3
Sequential Prophet REV2
Yamaha U1 Upright
Behringer RD-8
Glockenspiel
Gretsch Brooklyn Chrome 12 x 6" Snare Drum
Korg Volca Beats
Ludwig Acrolite 14" x 5" Snare Drum
Ludwig Black Beauty 14 x 6,5" Snare Drum
Ludwig Classic Maple 22 x 14" Bass Drum, 16 x 16" Floor Tom, 13 x 9" Rack Tom
Istanbul Agop 14" Hi-Hat
Istanbul Agop 18" Crash
Istanbul Agop 20" Ride
Zildjian 16" K-Custom Dark Crash
Ceriatone JM50
Elkatone Leslie
Fender Blues Junior
Fender Greta
Fender Princeton 112+
Marshall MR1974CX Cab
Morgan MVP23
Universal Audio Ox
Vox AC-30